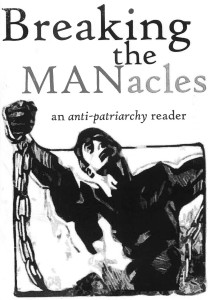 An anti-patriarchy reader
Made especially – but by no means exclusively – for those socialized as men
How can I be sexist?!
I'm an anarchist / hippy / liberal / nice guy / radical / friend to all women / revolutionary / enemy of all oppression!!!
Believe it or not – and this collection aims to have you believe it – none of those socialized as men in this society are immune to the assumptions, attitudes, and actions of sexism, no matter how radical or progressive their politics. This zine brings together five articles addressing the issues and practical steps « men » can take to deal with patriarchal behavior, to strengthen and sustain the movements of which they are part. While drawn primarily from debates among anarchists, Breaking the Manacles offers valuable food for tought (and action!) for all those working towards a better world.
De multiples auteurs
Publié par Andrew